Burchmores bank repossessed vehicles are for sale at auctions every Tuesday, Thursday & Saturday. Cars, Bakkies, 4×4 vehicles are available to buy direct to the public.
Burchmores hold regular repossession auctions in Johannesberg, Cape Town and Durban.
Related: Car Repossessions and Bank Repossessed Vehicles For Sale
With monthly events also taking place at locations in Port Elizabeth, Bloemfontein, Nelspruit, Polokwane (Pietersberg), Pinetown and Knysna.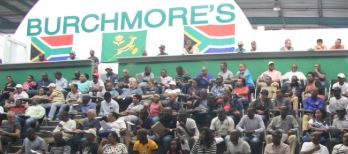 Burchmores bank repossession auctions is the largest repossessed vehicle auctioneering company in South Africa.
They have auctioned in excess of 600 000 vehicles since they were Established in 1911. Including cars, bakkies, 4×4's and others since 1988.
If you cannot make the trip to any of the Burchmore auction events they have a particularly useful feature called "Wholesale to the Public".
Car models such as Volkswagen, Renault, Toyota, BMW, Ford, Nissan, Audi, Peugeot can be bought at wholesale bargains.
Burchmores Bank Repossessed Vehicles Auctions
Vehicle finance with all the major banks is available on the floor at every auction. Catalogues or lists of cars are made available at least 3-4 hours beforehand.
In order to bid you need to register as a buyer. You do this by making a refundable deposit in the form of a bank guaranteed cheque. Members of staff and other auctioneers are always on hand. To help people through the auction process and with bidding.
All in all buying a bank repossessed car or other vehicles at one of the countrywide Burchmore auctions couldn't be easier.
Gauteng Motor Car Auctions
You should visit Gauteng motor car auctions if you are looking to invest in a new or used vehicle. Many car dealers attend Burchmores and other auction holders as they get their cars at awesome prices. Dealers sell them off again at their own dealerships with a profit included for them.
Not all auctions held by banks like Standard Bank, Wesbank or ABSA are available to the public. So you have to make sure that you are able to attend an event before you rock up there.
There are often auctions held where repossessed vehicles are sold in Pretoria and Johannesburg. So if you are in one of these areas it shouldn't be difficult for you to get to an auction.
There are many places like the dealers themselves where you can get one of the used repossessed vehicles. But it is in your best interests to rather go to the Gauteng motor car auctions and see what vehicles they have.
Burchmores is one of the most well known auction sites that is accessible online to anyone, so if you are in Pretoria or Johannesburg that is fine you may still take part.
Bank Repossessed Car Auctions
Wesbank, ABSA and Standard Bank and just three of the banks that are known to open their auction doors to the public. So make sure you pay any one of them a visit to see what information they have for you on their next auctions.
There are many places that may seem perfect to go to to get your dream car. But the truth is that bank repossessed car auctions are actually the ideal place for you to pick up good deals. So if you are searching the market for a decent priced car… Look no further than the Gauteng motor car auctions around Pretoria and Johannesburg.